Additional Information
Bombay Bliss Caloundra
Phone:
07 54919389
Address:
65 Pierce Avenue, Little Mountain
Store Time:
11:30 am – 02:30 pm
04:00 pm – 9:00pm
Delivery Time:
5pm – 9:00pm
India's diverse culture, climate, and history are visible in its rich and exotic cuisine. The flavour of different Indian dishes varies due to their location, likely due to the available spices, herbs, and ingredients in the locality. This leads to the creation of different variations of one dish as it becomes a favourite staple in different Indian states. Do not worry; you do not need to go to different Indian states to taste authentic Indian food. Bombay Bliss is here to bring you the richness of traditional Indian cuisine to Sunshine Coast's southernmost town, Caloundra. Here at Bombay Bliss Caloundra, we will serve you the best authentic Indian food that will make you want to travel to India! Visit us or get your meals delivered. We cover each corner of the coastal towns in Caloundra from Warana to Pelican Waters to make sure you get a taste of India!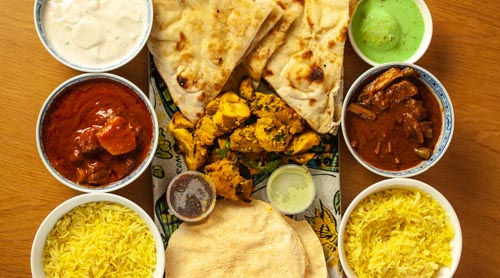 Caloundra's best Indian restaurant
Like its other four restaurants on the Sunshine Coast, Bombay Bliss Caloundra offers Indian cuisine, ranging from entrées to desserts. Start with our entrées where you can choose vegetarian or meat. All entrées are served with Tamarind and Mint Chutney to prepare you for your main course. As you wait, take a bite of our vegetable or lamb samosa, which has two pieces per serving. If you want more, take a bite of our gluten-free and vegan Madras Aloo Bhonda, or you may want to try our chef's pick, two pieces of ricotta croquettes. Our chef also recommends our vegan and gluten-free onion bhaji. Do not forget to take a bite of our Bliss Spring Rolls. You might also want to order some Spring Rolls for takeaway if you're planning to take a walk in nearby areas such as Moffat Beach, Kings Beach, Golden Beach, or Caloundra West.
If you wish to have a meat entrée, our chef would suggest tandoori bites. It's also a perfect gift if you're visiting anyone from Battery Hills, Bellvista, or Birtinya! You can also get tandoori chicken or chicken tikka at our restaurant in Little Mountain. And, don't forget the best comfort food of all: four pieces of chicken wings! Every bite will make you think Bombay Bliss is Caloundra's best Indian restaurant!
Just like the entrées, Bombay Bliss Caloundra's mains have a wide range of vegetarian or meat options. Our vegetarian menu is all gluten-free. Taste our creamy Navratan Korma and Paneer Makhni that will prepare you for a day at Pelican Waters or Shelly Beach. Our vegetarian mains menu also has vegan options such as Aloo Masala, Palak Paneer, Aloo Saag, Vegetable Jalfrezi, and the day's Daal or Lentils.
Our main course's range of meat selection is extensive, making sure everyone gets a taste of India's best. Our menu consists of chicken, lamb, beef, and seafood dishes. These are all gluten-free, and you need to order your rice separately. Chicken Tikka Masala is our chef's pick, but don't forget to check out Chicken Korma if you want a thick, creamy curry. If you like tomatoes in your curry, butter chicken is for you! The butter added near the end makes it taste lighter. Want to challenge your spicy palate? Try Chicken Jalfrezi, Chicken Rogan Josh, or Chicken Madras! You might also want to try our Mango Chicken, they will remind you of the ripe mangoes in Wurtulla!
The Lamb menu of Bombay Bliss Caloundra also has Lamb Madras, Kashmiri Rogan Josh, and Lamb Korma if you want to stay away from their chicken variations. We also have the creamy Saag Gosht with English spinach available for you.
In the Beef menu, our chef's pick is the Kodi Beef, whose tender slow-cooked beef will keep you asking for more. We also have a Portuguese-influenced dish, the Beef Vindaloo. Another flavourful beef dish is Beef Malibu, cooked with tender coconut and Malibu Coconut Rum. If you're staying away from anything spicy, Balti Beef's marinated beef and vegetables are perfect for you!
With restaurants close to the ocean, we always have fresh seafood on our menu! Our chef recommends you to take a bite of Prawn Bliss. Our creamy Prawn Masala, Fish Masala, and Prawn Malabari are also available.
Our meat and vegetable meals can be matched with non-vegetarian and vegetarian biryani, and premium basmati rice, but the chef here in Bombay Bliss Caloundra recommends you to match your medium and hot curries with coconut rice. You can also choose freshly baked bread from our tandoor. They are all yeast and egg-free! Choose from a variety of naan flavours such as garlic, cheese, cheese and spinach, and the classic plain. You can also choose to get Camembert Kulcha and Tandoor Roti if you want to try something else.
If you want to level up the flavour, our sides are always available to aid you! Butter Sauce, Mango Chutney, Pickles, Papadums, and the Raita of the day will allow you to create the perfect combination for your meal, and at the same time, help you lessen the spiciness of your main course. You can always let us know if you would rather have your curry's spiciness mild, medium, or hot, we are always ready to accommodate you!
Finish off your meal with the sweet Gulab Jamun and India's traditional Kulfi Ice Cream. It's as refreshing as Aroona's definition, the 'place of refreshing.' It's also perfect to have while taking a stroll on Glenview. Don't forget to browse our drinks menu. We have soft drinks, lassi, or our collection of wine and beer available for you and your family and friends. We allow a maximum of three bottles of wine and six bottles of beer for delivery to make sure you have enough drinks if you're visiting anyone in Bokarina or Dicky Beach.
Dine-in, takeaway, or pick-up, you can all do that here at Bombay Bliss Caloundra. If you are a visitor, a tourist, or a local, drop by at Bombay Bliss Caloundra before you start your day!
OUR SPECIAL OFFERS
Bombay Bliss Caloundra has online offers for those who order from our site. Our 'As You Like Curry' is available, you can make your own curry by choosing your curry base, meat or vegetable, curry size, its spiciness, and other extras you'd like for your curry. We also have a full Tandoori Chicken of eight pieces that's perfect for takeaways or pick-ups. If you want to share with your friends or family, we have the Aussie Family Pack Large for you! It has 1x entrée, 2x large curries of your choice, 2x large rice, 1x Raita, 1x Tamarind and Mint Chutney, 2x Naan bread of your choice, 4x Papadums, and 1x dessert.
In addition, we have other Meal Deals with a 10% discount when you order through the website. Bombay Value meal for two comes with a large or a regular-sized curry. If you're eating alone you can choose to get half curry and rice, or a half curry, naan and rice. Another meal perfect for one is our Bliss Meal Deal that has 1x regular curry of your choice, 1x regular rice, 1x Naan bread of your choice, and 2x Papadums.
For dine-in, we have Bliss Thali, a one-plate meal with any main course of your choice. It is served with Spring Rolls as your entrée, vegetarian curry, rice, Raita, Papadums, and plain or Garlic Naan. Bliss Thali is only available during lunch, so make sure to take a break and visit us before you watch Caloundra's sunset!
Bombay Bliss Caloundra DELIVERY AREAS
Bombay Bliss Caloundra is available to deliver to these areas:
Caloundra
Aroona
Battery Hill
Belvista
Birtinya
Bokarina
Caloundra West
Currimundi
Dicky Beach
Glenview
Golden Beach
Kings Beach
Little Mountain
Meridan Plains
Moffat Beach
Pelican Waters
Shelly Beach
Wurtulla
Lunch or dinner, call us at (07) 5491 9389 or order online and get Caloundra's best Indian restaurant at your doorstep!
OPENING HOURS
We are open every day at Bombay Bliss Caloundra. We are located at 65 Pierce Avenue, Little Mountain. We are ready to serve you from 11:30 AM to 02:30 PM, and from 04:00 PM to 08:45 PM. Our delivery starts from 05:00 PM to 08:45 PM daily. If you're looking for Indian food delivered to Kawana and Caloundra call us at (07) 5491 9389.
OTHER SERVICES
Bombay Bliss Caloundra offers catering services for events of around 20 to 500 people. These events could be small parties, conferences, or other big celebrations. Our chefs and managers will do everything for your guests to enjoy authentic Indian food and have an unforgettable time! For more information please email us at krishna@bombaybliss.com.
Your cart is currently empty.